Barnes NB Almanack 1871: Kings County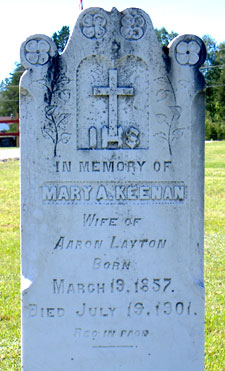 In Memory of Mary A. Keenan, wife of Aaron Layton, born March 19, 1857 Died july 19, 1901, Rest in Peace. This stone is in the graveyard of Our Lady of Mount Carmel Church, Howard Road, Blackville, NB. August 2006.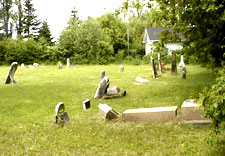 Stones lay scattered about in disarray at the Old St. Luke's Scottish Cemetery in Bathurst, NB. August 2002.
Kings County
Judge of the County Court - Charles WATTERS, Esq. Clerk of the Co. Court - Finemore E. MORTON
Terms:-- First Tuesday in January, second Tuesday in March and first Tuesday in July and October.
Justices of the Peace:-- Justus S. WETMORE, A. C. EVANSON, Isaac HAVILAND, Samuel FOSTER, John WIGHTMAN, John BRITTAIN, Hon. J. H. RYAN, John C. PRICE, Elias S. WETMORE, Robert McCULLY, Craven LONGSTROTH, Elias S. FREEZE, Weeden FOWLER, John L. WILMOT, Elijah A. PERKINS, Walter B. SCOVIL, James FAIRWEATHER, J. W. NOWLAN, Samuel FOSTER, John H. WRIGHT, J. D. Micheau KEATOR, R. S. FOSTER, J. M'LEOD, Jr., Nelson ARNOLD, William PEARSON, William A. STOCKTON, William B. M'KEEL, William M'LEOD, Philo M. RAYMOND, Nathaniel BELYEA, William BUCHANAN, John O. DANN, James COOKSON, David HATFIELD, Zebulon CONNOR, James A. FENWICK, John M'ARTHUR, William KEITH, James L. FLEWWELLING, John ERB, John M'INTYRE, Daniel M'LACHLAN, John URQUHART, William S. TEAKLES, Robert MORRISON, William BASKIN, T. Oliver ARNOLD, John C. GODARD, William DENISTON, Joseph D. BAXTER, Jabez E. TITUS, George FLEWWELLING, George BARNES, David M'KENZIE, Henry PIERS, Jr., Isaac FAULKNER, Joshua C. UPHAM, Peter BRENNAN, Peter DUNN, John McLEOD(Studholm), Patrick McBRIARTY, John CARROLL, Nathaniel H. DeVEBER, George Holmes KEIRSTEAD, J. Murray NASE, William S. FROST, Simeon Hatfield WHITE, James S. WHELPLEY, John MOORE, Oswald N. PRICE, Murray B. KEITH, Ebenezer STOCKTON, James CAMPBELL, Nicholas P. WANNAWAKE, James W. SMITH, William BARNES, David SMITH, James DOUGLAS, Henry W. PURDY, Conrad J. HENDRICK, Benjamin GRAY, John M. RAYMOND, William THOMAS, Gilbert DOWNEY, Lewis FOLKINS, Caleb FENWICK, James SINNOTT, Charles HAZEN, Charles M. HUNT, George Whitefield SHARP, Justus Henry GR-Y, Daniel C. PERKINS, G. Hudson FLEWELLING, and Andrew McVAY, Esquires.
Clerk of the Circuits:-- F. E. MORTON, Esq.
High Sheriff:-- Samuel N. FREEZE, Esq.
Keeper of the Rolls, Judge of Probates, and Clerk of the Peace:-- Edward Betts SMITH, Esq.
Registrar of Probates:-- James COOKSON, Esq.
Registrar of Deeds and Wills:-- George BARNES, Esq.
Coroners:-- Isaac HAVILAND, S. Z. EARLE, A. C. EVANSON, James WETMORE, Jr., Adino PADDOCK, O. PURDY, Rufus A. STOCKTON, John WILSON, John M. RAYMOND, Allan McLEOD, George Rex PRICE, William KEITH, Robert J. LEMONT, MD, William B. McKEEL, L. N. SHARP, F. P. TAYLOR, Thadeus SCOTT, MD, Foster McFARLANE, MD, Joshua BURNETT, MD, and Robert MORRISON.
Commissioners for taking Bail and Affidavits in the Supreme Court - A. C. EVANSON, Samuel HALLETT, C. W. STOCKTON, Hon. J. H. RYAN, John C. PRICE, S. FOSTER, James A. REEVE, J. W. NOWLAN, Philo M. RAYMOND, and James COOKSON, Esquires.
Commissioner for Solemnizing Marriages ------- ------- Esquire.
Issuers of Marriage Licenses:-- A. T. D. McELMEN, E. B. SMITH, and William BASKIN, Esquires.
Receiver of Crown Debts, under Act 7 Vic., c.36:-- E. B. SMITH, Esq.
Auctioneers:-- E. S. FREEZE, William H. WHITE, E. PERKINS, Samuel FREEZE, LeBaron DRURY, Gilbert TITUS, Gilford COUGLE, Benjamin SPROUL, Abraham JOHNSON, Jr., William KEITH, James E. FRYERS, Isaac PEARSON, J. D. MABEE, Joseph D. BAXTER, Joseph BELYEA, T. G. BARNES, W. M. TEAKLES, Samuel GOSLINE, Noah KEITH, William A. STOCKTON, J. M'NAUGHT, Thomas MATHEWSON, J. SHARP, B. L. CRAWFORD, G. DOWNEY, D. M. JOHNSON, Douglas FAIRWEATHER, Samuel FOSTER, James NOWLAN.
Trustees of Grammar School:-- Rev. W. E. SCOVIL, Rev. W. W. WALKER, and ----- ----- Esquire.
Teacher of Grammar School:-- John RAYMOND
Inspector of Schools:-- Thomas W. WOOD
County Treasureer:-- John FLEWWELLING
Terms of the General Sessions - First Tuesday in March and third Tuesday in October. NOTE: The Court of Probate is held at the Court House on the first Monday of every month.