Barnes NB Almanack 1871: York County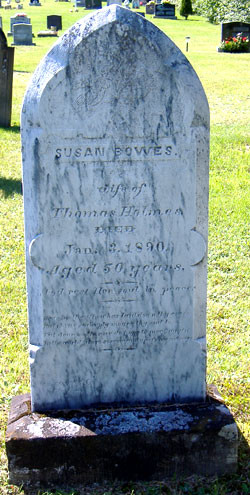 Susan Bowes, wife of Thomas Holmes, died January 3, 1890. Age 50 years. God rest her soul in peace. This stone is in the graveyard of Our Lady of Mount Carmel Church, Howard Road, Blackville, NB. August 2006.
York County
George F. GREGORY, Esquire, Mayor
John L. MARSH, Esquire, City Clerk
P. McPEAK, Esquire, City Auditor
Samuel W. BABBIT, Esquire, City Treasurer
Aldermen
J. W. SIMMONS, Esq., Edward SEERY, Esq. - Wellington Ward
John RICHARDS, Esq., W. H. TOWER, Esq. - St. Ann's Ward
Henry TORRENS, Esq. George ELLIOTT, Esq. - Carleton Ward
Thomas Dowling, Esq. Wm. WHEELER, Esq. - Queen's Ward
G. W. WHELPLEY, Esq. Z. R. EVERITT, Esq. - King's Ward
Charles BRANNEN, Esq., City Marshall; W. H. ANDERSON, Chief Engineer and Road Master; John FLEMING, Alms House Keeper; B. McCAFFERY, Clerk of Phoenix Squeare Market; D. CURRIER, Wharfinger and Harbour Master; A. G. BECKWITH, City Surveyor.
Policemen - Robert WHITE and Philip MULLIGAN
Commissioner of the Alms House - Jeremiah MEAGHER, Esq.
Assessors - James BURCHILL, Chairman; Thomas L. SIMMONS, E. CLARK, Robert WILEY and James AGNEW.
Revisors - T. DOWLING, Chairman; J. W. SIMMONS, W. H. TOWER, Henry TORRENS and Z. R. EVERETT.
Trustees of Schools - Rev. Charles LEE, Rev. J. C. McDEVITT and Rev. Alexander STERLING.
Surveyors of Wood and Coal - Wilmot GUIOU, James M. WORTMAN, David CURRIER, Benjamin CREIGHTON, Joseph G. GILL, Joseph ARMOUR, James LUCAS, and Richard HUDSON.
Surveyors of Lumber - Stephen E. ATHERTON, Wilmot GUIOU, Wm. R. TURNER, Wm. S. ESTEY, Wm. CALDER, Nicholas T. WHEELER, Wm. ROACH, John EGGAR, Frederick J. TODD, and Thomas A. ARMSTRONG.
Fence Viewers - John FLEMING, Hugh DOHERTY and John M. RUEL.
Fire Department -- Alexandria Steam Fire Engine Company, No 1 George HATT, Captain; James WHITE, Engineer; Thomas FOWLER, Captain No 3 Company; James FARRELL, Captain No 4 Co.; John McLAUGHLIN, Captain No 5 Co.
Firewards - His Worship the mayor, and the Aldermen of the City.
Fredericton Skating Club - Thomas TEMPLE, President; Hon. John A. BECKWITH, John PICKARD, Esq. M.P., and A. F. RANDOLPH, Esq., Directors. John L. MARSH, Esq., Solicitor; John RICHARDS, Esq., Secretary and Treasurer.
Fredericton Railway Company - Thos. TEMPLE, Esq., President; John RICHARDS, Esq., Secretary and Treasurer. J. L. INCHES, Esq., A. F. RANDOLPH, Esq., Lewis CARVELL, Esq., and H. D. McLEOD, Esq., Directors.
Municipality of York County. - Robt. ROBINSON, Warden; Henry B. RAINSFORD, Secretary Treasurer; J. S. BEEK, Auditor
Councillors
Dumfries - William WHITEHEAD and Michael DOHERTY
Prince William - Charles McCORMACK and James HENRY
Kingsclear - Thomas B. WHEELER and James TOWER
Manners-Sutton - John RUTHERFORD and Thomas DOOHAN
New Maryland - Lewis FISHER and Samuel K. NASON
St. Mary's - T. F. BARKER and J. McLAGGAN
Stanley - Thomas SEWARD and B. ELLIOTT
Douglas - George FOSTER and Geo. NEVERS
Queensbury - John A. GUNTER and Charles E. PARENT
Southampton - Alex. MUNRO and Alfred THORNTON
Canterbury - Robert ROBINSON and Alex BURNETT
Bright - Samuel S. BURPEE and Wm. McKEEN
Judge of the County Court - Jas. STEADMAN, Esq.
Clerk of the County Court - Chas. H. B. FISHER
Terms; First Tuesday in January, March, June and October
Justices of the Peace
Hon. John S. SAUNDERS, John ALLEN, George MINCHIN, William H. ODELL, Thomas JONES, William DAVIDSON, Patrick CAMPBELL, Thomas GILL, Richard HAYNE, George CLEMENTS, Allan M'LEAN, Thomas R. ROBERTSON, Asa COY, Isaac KILBURN, Jr., Edward SIMONDS, Charles M'PHERSON, George L. HATHEWAY, Ira INGRAHAM, Jr., Spafford J. BARKER, Beverley A. ROBINSON, Benjamin YERXA, Benjamin GOODSPEED, James FAIRLIE, Israel SMITH, Enoch DOW, Edward PIDGEON, J. McDONALD, Andrew CALDER, Samuel FOX, Joseph PICKARD, Thomas MURRAY, James S. BEEK, Thomas L. SIMMONS, James McLAGGAN, Thomas C. ATHERTON, William R. BUSTIN, Calvin L. GOODSPEED, John M'INTOSH, Robert FOREMAN, John S. ELLEGOOD, John HEA, Jr., Moses HILLMAN, Hezekiah CRONKHITE, John GUIOU, Thomas TEMPLE, Hugh M'KAY, Benson SMITH, Thomas HERBERT, Lewis H. HUESTIS, Jeremiah CHRISTY, John S. BARKER, Thomas STEWART, A. SHIVES, Martin MACKAY, Samuel A. AKERLEY, Jos. H. DYKEMAN, William C. BROWN, George W. KNOX, Alexender MOODY, Samuel S. GROSVENOR, George NEVERS, Wm. GIBSON, John S. PATTERSON, Henry ROGERS, Thomas DAVIS, William WHITEHEAD, Constantine CONNELLY, Archibald M'LEAN, William JAMIESON, Geo. LESTER, John A. BECKWITH, Patrick SELVAGE, William GUIOU, Samuel DAYTON, I. ATHERTON, John TAYLOR, W. C. JOSLIN, John L. GRANT, Thomas F. SAUNDERS, Joel MILLAR, Thomas PRINGLE, Benjamin H. CLAYTON, Bernard ELLIOTT, William LEWIS, Joshua HILLMAN, George H. MAXIN, James SUTHERLAND, George A. PERLEY, Abraham McKEEN, William WILSON, John ANDERSON, Richard P. WINTER, George RISTEEN, George ESTEY, Frederick A. PERLEY, Patrick KIRLIN, Samuel YERXA, William H. BIDEN, William H. MURRAY, Joseph REED, Solomon VAIL, William Henry LONG, Robert ROBINSON, Stephen G. FOWLER, Duncan McKENZIE, Thomas MILES, John L. HAINS, James E. SMITH, Benjamin YERXA, Jr., Richard LONG, William EARLE, Zebulon CURRIE, Benjamin A. WINTON, Andrew ROSS, Richard BELLAMY, Asa DOW, Hiram DOW, Alex THOMPSON, Alexander GIBSON, Lewis FISHER, Jesse PARENT, David PUGH, Jesse CHRISTY, William CLARKSON, Asa D. BROOKS, Edward H. HARTLEY, William DUNHAM, James D. McKAY, John L. FLETCHER, Joseph HERON, James GRIFFITH, James JOHNSTON, William S. ESTY, George HATT, Charles L. HARTT, Stephen BOONE, William GRIEVE, George INGRAHAM, Allington E. CLIFF, Samuel COLTER, James HENRY, William BOYD, Thomas F. BARKER, Asa MITCHELL, James PARENT, Michael DOHERTY, Leverit ESTABROOKS, Charles McCORMACK, Leonard YERXA, George FOSTER, Owen SHARKEY, John OWENS, and David DOUGLAS, Esquires.
High Sheriff - Thomas TEMPLE, Esq., Deputy Sheriff - William FRIEL, Keeper of the Rolls and Clerk of the Peace - George J. DIBBLEE, Esq., Surrogate - George F. H. MINCHIN, Esq., Registrar of Probates - Francis A. H. STRATTON, Esq., Registrar of Deeds and Wills - Abraham D. YERXA, Esq., Coroners - Judah HAMMOND, John MARSHALL, Thomas BROWN, S. D. MACPHERSON, Theodore C. BROWN, David LITTLE, Hiram DOW, George NEVERS, William JAMIESON, Hezediah CRONKITE, Esquires.
Judge of Probates - G. F. H. MINCHIN
Collector of Royalties - James HENRY, Esq.
Commissioner for taking Bail in the Supreme Court - Hon. J. S. SAUNDERS
Commissioners for taking Affidavit in the Supreme Court - The several Attorneys practising in the county.
Commissioners for Solemnizing Marriage - John ALLEN and J. HARRISON, Esquires.
Auctioneers - Samuel A. AKERLEY, Joseph MYSHRALL, George A. PERLEY, Thomas W. SMITH, Jeremiah STAPLES, Thomas DOUGLAS, W. H. FRIEL.
Commissioners of the Alms and Workhouse - Ludlow McGIBBON, Thomas PRINGLE and Jeremiah STAPLES. Keeper - John FLEMING
Inspector of Schools - Edward C. FREEZE
Terms of the General Sessions - First Tuesday in Jamuary and second Tuesday in June. Terms of the Supreme Court - Equity side - First Tuesday in every month, excepting February and September, and instead of February the sittings shall be on the last Tuesday in January.